About us
About Us We are the management company of the "Giełdowe Centrum" Complex located in Warsaw, at Książęca Street. Our mission is to ensure the reliable operation of the entire complex. Some of the most important entities in the Polish financial market, namely the Warsaw Stock Exchange (Giełda Papierów Wartościowych w Warszawie S.A.) and the National Depository for Securities (Krajowy Depozyt Papierów Wartościowych S.A.), are headquartered with us.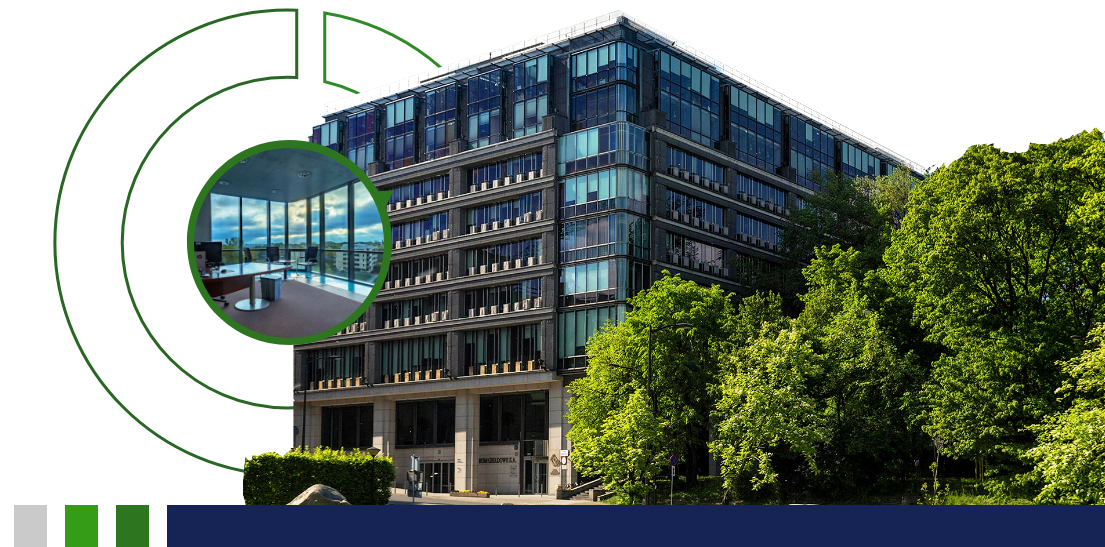 This prestigious location has been chosen by renowned law firms, financial institutions, companies, and entities associated with the capital market. The Company's activities include the leasing and management of its own and leased properties, property management services provided on behalf of others, auxiliary services related to building maintenance, implementation of construction projects related to building construction, engineering activities, technical consultancy, as well as independent real estate buying and selling. The building hosts the most important events and conferences for the Polish economy, with the participation of royal family members, heads of state, government representatives, and top executives from major companies. The main lobby showcases works of art.
Board of Directors
Piotr Koziarski – President of the Board
Ireneusz Kiljan – Vice President of the Board
Supervisory Board
Tomasz Nowak
Edyta Jastrzębska
Renata Wanat
Sławomir Panasiuk
Paweł Waliński
Our history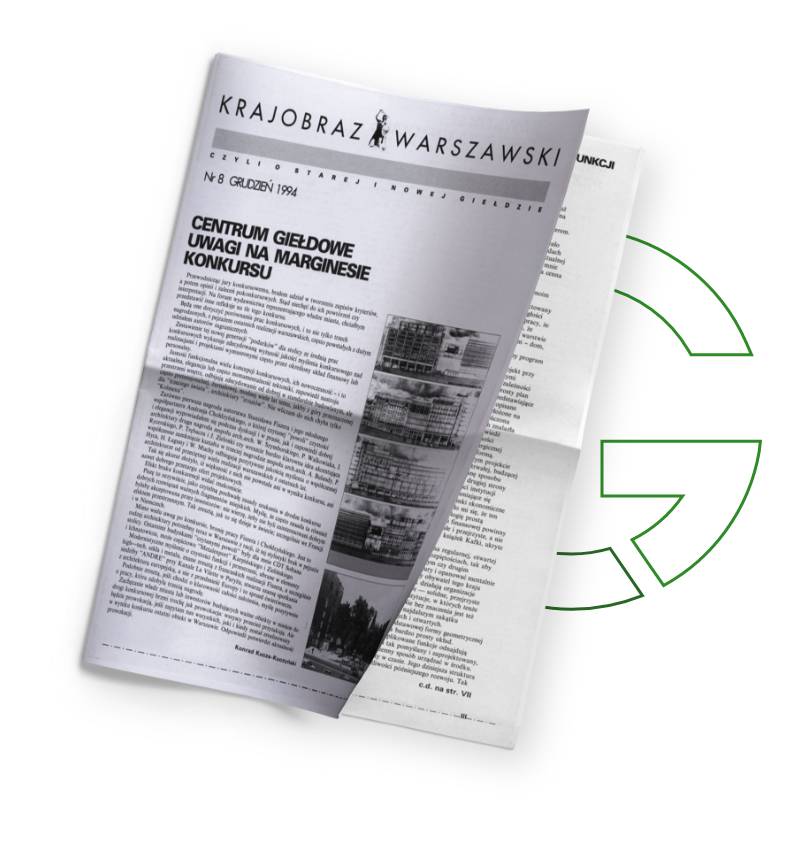 The "Giełdowe Centrum" is an 8-story building with a total office space of 19,400 square meters. It represents a unique combination of tradition and modernity.
Its excellent location, intriguing design, and exceptional architecture make the building highly visible from all directions. The interior finishes are executed with the use of top-quality materials, while the glass facade allows for a constant influx of natural light. The green surroundings of the building contribute to creating a safe, friendly, and comfortable working environment.
The building's design and features reflect a balance between functionality and aesthetic appeal. It serves as an architectural landmark, capturing attention and symbolizing the blend of heritage and contemporary elements.
Download PDF
Historical Overview
1991
April 12, 1991 – Founding Act of GPW
1994
Awarding of the SARP 771 architectural competition for the new GPW building – First Prize to S. Fiszer and A. Chołdzyński.
1996
Establishment of Centrum Giełdowe company.
1998
Commencement of the construction of our building.
2000
Completion and inauguration of the building
Building Services
Restaurant deli3
An excellent place for lunch at our restaurant.
Oligocene Water Intake
Oligocene Water Intake Open from 8 AM to 10 AM and 4 PM to 8 PM
Centrum Giełdowe in Numbers:
19 400 m2
of office space
20
conference rooms
400
office rooms
250
parking spaces

Zaprojektowany tak, aby mógł pełnić funkcję uniwersalnego biurowca całe dziesięciolecia. Wszystko jest w nim doskonalsze, ciekawsze i piękniejsze niż w jakimkolwiek innym dotychczas zbudowanym w Polsce obiekcie komercyjnym służącym pomnażaniu pieniędzy.
Gazeta Wyborcza/Murowany Rynek

Nowy budynek warszawskiego Centrum Giełdowego jest uznany przez branżowców za rozwiązanie unikatowe i godne zazdrości (…)
Rzeczpospolita/Architektura na świecie. Hossa giełdowych budynków

Doskonały wzór użyteczności publicznej wolny od poczucia izolacji i wyniosłości (…)
Magazyn Budowlany/Monografie Nr 1/01

Doskonały wzór użyteczności publicznej wolny od poczucia izolacji i wyniosłości (…)
Magazyn Budowlany/Monografie Nr 1/01